Facilities
The Quinn Lab occupies 815 sq. ft. of wet lab space in 3420 ENRC, which has been outfitted to accommodate both in vivo procedures and in vitro cell/tissue culture experiments.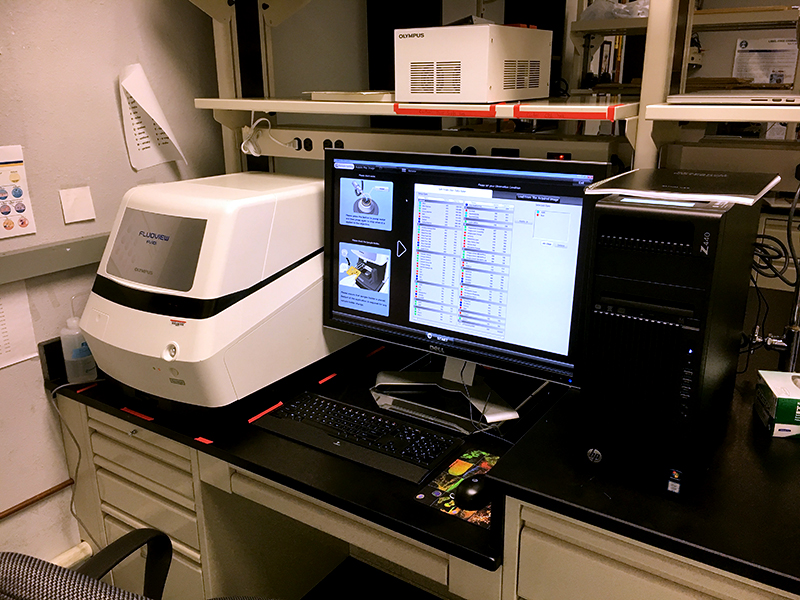 In addition to standard biomedical research equipment, unique features in our lab include an ADMET BioTense Bioreactor and MTESTQUATTRO Material Testing system capable of tensile loads up to 100N and an automated quantitative polarized light microscope. We have also installed an inverted laser scanning confocal microscope. The Olympus Fluoview FV10i-LIV is designed for live-cell imaging and has the following features:
405nm, 473nm, 559nm, and 635nm laser lines
1 phase-contrast transmission channel and 2 epi-fluorescence channels with a variable barrier filter mechanism by diffraction grating and slit
10x (N.A. 0.4) and 60x (N.A. 1.2, water-immersion) objectives
Automatic focus detection and automatic collar correction
Automatic water supply and cleaning for 60x objective to facilitate long-term live cell imaging
Motorized XY stage and motorized objective control
Built-in micro-incubator to maintain 37C, humidity >90%, and 5% CO2.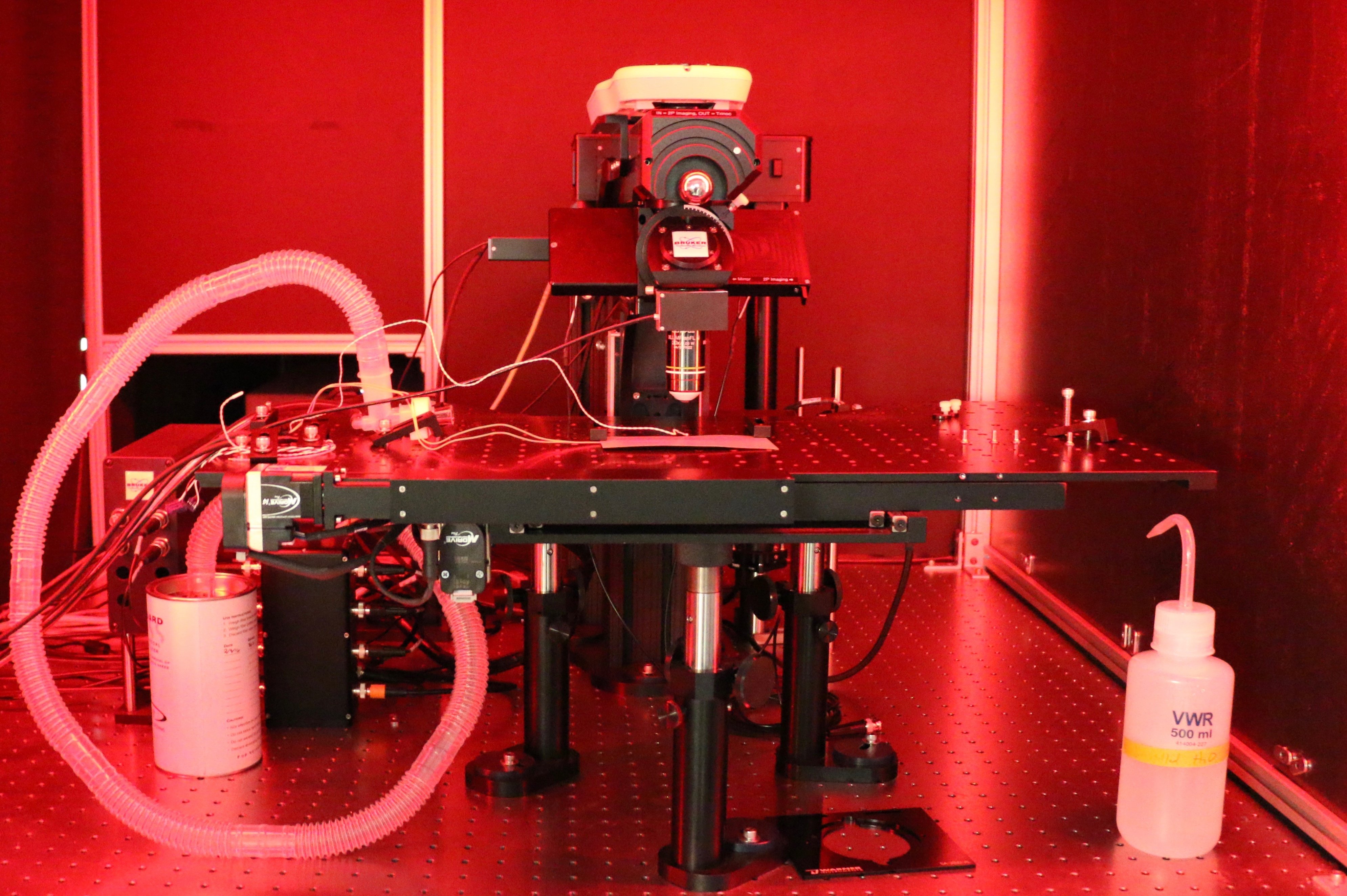 We also have established a Multiphoton Fluorescence Lifetime Imaging Facility (
2939 ENRC
). Our upright multiphoton microscope (Bruker Ultima Investigator Series) has the following capabilities:
Ultrafast Ti:Sapphire laser (Mai Tai HP, Spectra Physics, Inc.) with automated tuning between 690-1040nm and an average power of 2.8 W at 800nm with pulse width of <100 fs.
Widely-tunable Ultrafast Ti:Sapphire laser (Insight X3 HP, Spectra Physics, Inc.) with automated tuning between 680-1300nm and an average power of 2.0 W at 900nm with pulse width of <120 fs, as well as a second 1045nm fixed (<200 fs) beam.
Spectral focusing Timing and Recombination Unit (SF-TRU) that synchronizes the output beams of the Insight X3 laser, allowing for coherent anti-Stokes Raman scattering (CARS) microscopy with narrowband spectral resolution up to 5 cm-1 over Raman shifts of 2600-3200 cm-1.
Four close-proximity, high-efficiency GaAsP detectors with emission filters spanning the visible range and optimized for the collection of endogenous cell and tissue autofluorescence
Integrated fluorescence lifetime imaging microscopy (FLIM) and phosphorescence lifetime imaging (PLIM)
Automated tuning of two-photon excitation wavelengths between 690-1040nm
20x Olympus water-immersion objective (1.0 NA) for deep 3D imaging
60x Olympus water-immersion objective (1.2 NA) for high-resolution imaging
Tandem galvo-galvo and resonant-galvo scanning system for customized scanning patterns as well as high-speed scanning modes (30 fps at 512x512 resolution; >1000 fps maximum)
Motorized control of large platform stage in 3 dimensions
Rotating nose-piece for imaging in an inverted configuration
Z-axis piezo drive for controllable high-speed positioning of the objective lens and high-speed volumetric imaging
Pockels cell for high-speed shuttering and continuous power control of the imaging laser
Gas anesthesia delivery to the microscope stage and controllable rodent heating pad for in vivo imaging experiments
Micro-incubator with controllable temperature and humidified gas delivery for in vitro experiments
Hamamatsu ORCA Flash4.0 Digital CMOS camera